How to choose your right size
How to choose your right size
FOR WIGS
Measuring your head size is an important task to endeavor prior to order a wig. Here are 5 simple steps to measure your head correctly: Before you measure, make sure to flatten your hair: use a cloth tape measure and do not pull the tape measure, just rest it over or around your head. Pulling or stretching the tape will give you the wrong size.

1) Measure around your head at the hairline.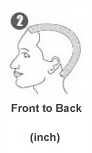 2) Measure your head from the nape over the crown to the top of your forehead where your natural hairline is.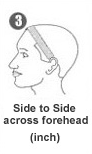 3) Measure from the ear-tab of one ear, across your head, to the same side of your other ear.
4) Measure from the point in front of one ear where your hairline ends, over the crown of your head, to the same point of your other ear.
5) Measure your nape of neck.
Cap size for UniWigs Human Hair Lace Wigs(lace front and full lace):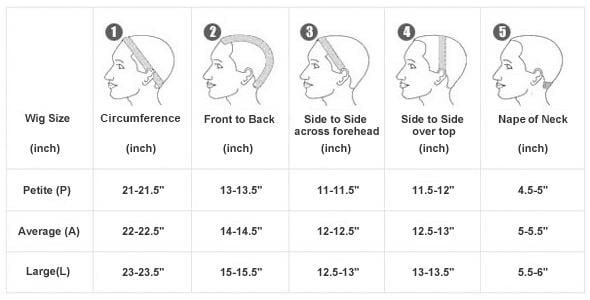 Mono Top (Hand-tied) Cap, Skin Top Cap (for Jewish Wigs) and all the Synthetic Wigs are average sized with Circumference 21.5"
You can also come to our Customer Order page to custom the exact wig that can best fit your head.
Please Note:
*This is guide to understand the cap size.
*It does not mean that each wig comes in all of these cap sizes.
*Sizes will vary slightly due to different types of wigs.
FOR HAIRPIECES
How to Measure the Size of Your Lace Closures or Toppers
One of the most asked questions is that how do I choose the size of a topper? Because it is the most important factor of how big a topper is needed. If it is too small, it might not be able to entirely cover the hair loss region.
For example, our best seller Claire Remy Human Hair Topper has a default base size of 5.5"x5.5". That means if you use a flexible tape measurement, the base of the topper will cover 5.5inches by 5.5inches starting from your hairline on your crown.
Another way to better understand exactly how much the topper can cover your head is to draw a semicircle on a piece of paper based on the topper's size. Then cut it out of the paper and put it on your head to have a visual understanding how much the base can actual cover. The video below is made by our customer June Penny introducing how can you DIY measure a hairpiece.